We are pleased to offer the following technical tours for the TRTR-IGORR 2023 Conference:
The Maryland University Training Reactor (MUTR) is the centerpiece of University of Maryland (UMD) Radiation Facilities in College Park, Maryland. The MUTR is a 250 kW TRIGA (Training Research Isotopes – General Atomics) conversion reactor used for education, training, and research. This tour is now full.
The FabLab is a Class 1000 research cleanroom located in the Jeong H. Kim Engineering Building. The lab supports research and development programs in nano science and technology, micro-electromechanical systems, semiconductors, materials and devices for electronics, bioscience and bioengineering, and sensor/actuator systems.
The Centrifugal Mirror Fusion Experiment (CMFX) is a University of Maryland, Baltimore County (UMBC) led effort to advance the performance of the centrifugal mirror fusion concept in collaboration with UMD. The centrifugal mirror configuration aims to resolve many of the shortcomings of a traditional magnetic mirror by rotating the plasma at great speed, thus improving axial particle confinement along the magnetic field lines and smoothing common mirror instabilities like flute instabilities.
The Three Meter Sodium Sphere apparatus is the latest in a series of experiments designed to study highly turbulent magnetohydrodynamic flow in the laboratory and is intended to have sufficiently high input power and sufficiently large size to finally observe a continuous turbulent fluid dynamo in a geometry similar to Earth's core.
The Joint Quantum Institute (JQI) is a publicly funded research organization dedicated to basic and applied research in quantum physics, with particular emphasis on quantum information science. Tours will include the Kollár Lab which studies artificial materials arising from the interactions between superconducting qubits and the rubidium Rydberg lab which uses ensembles of atoms to create networks that can distribute quantum information.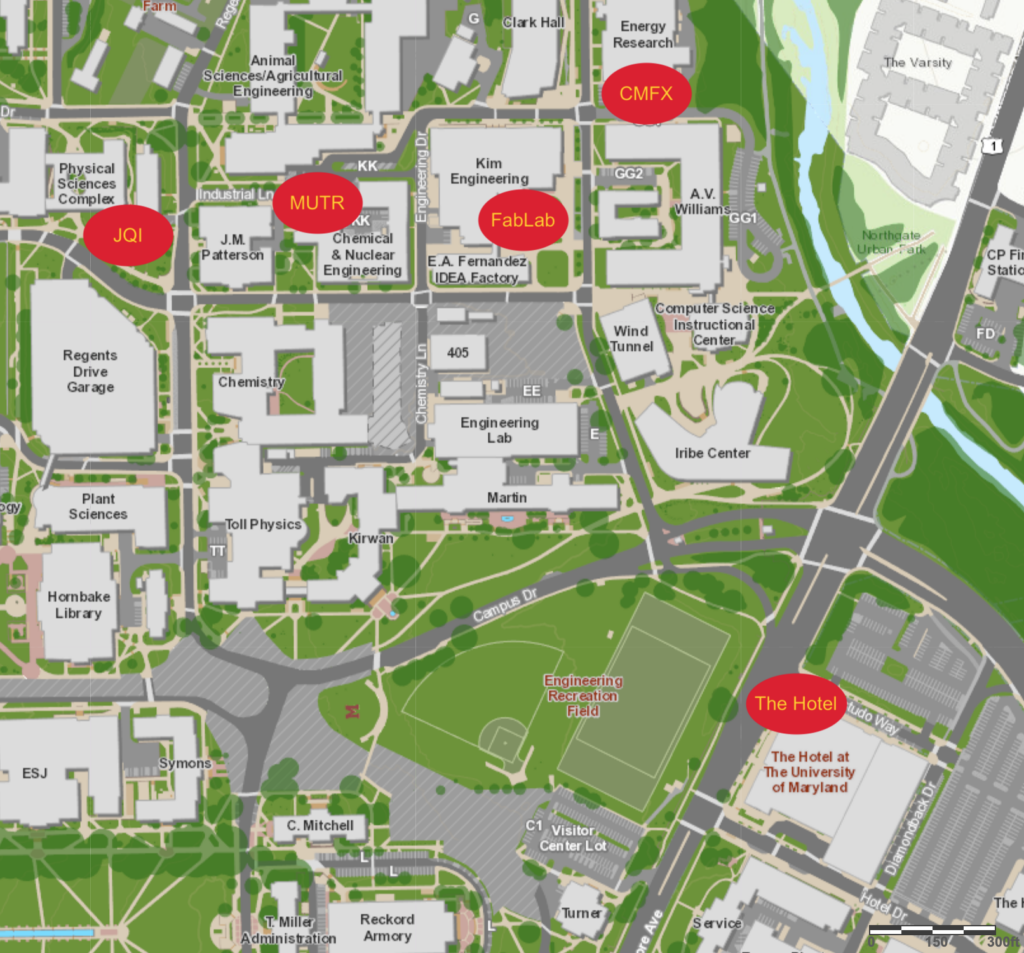 Tours groups will meet in the Hotel Lobby at 1:00 PM on Wednesday and be shown to their first destination. Tours will be offered in 2 sessions and you may sign up below for 1 tour in each time slot. Space is limited!
Session 1
Session 2